Bio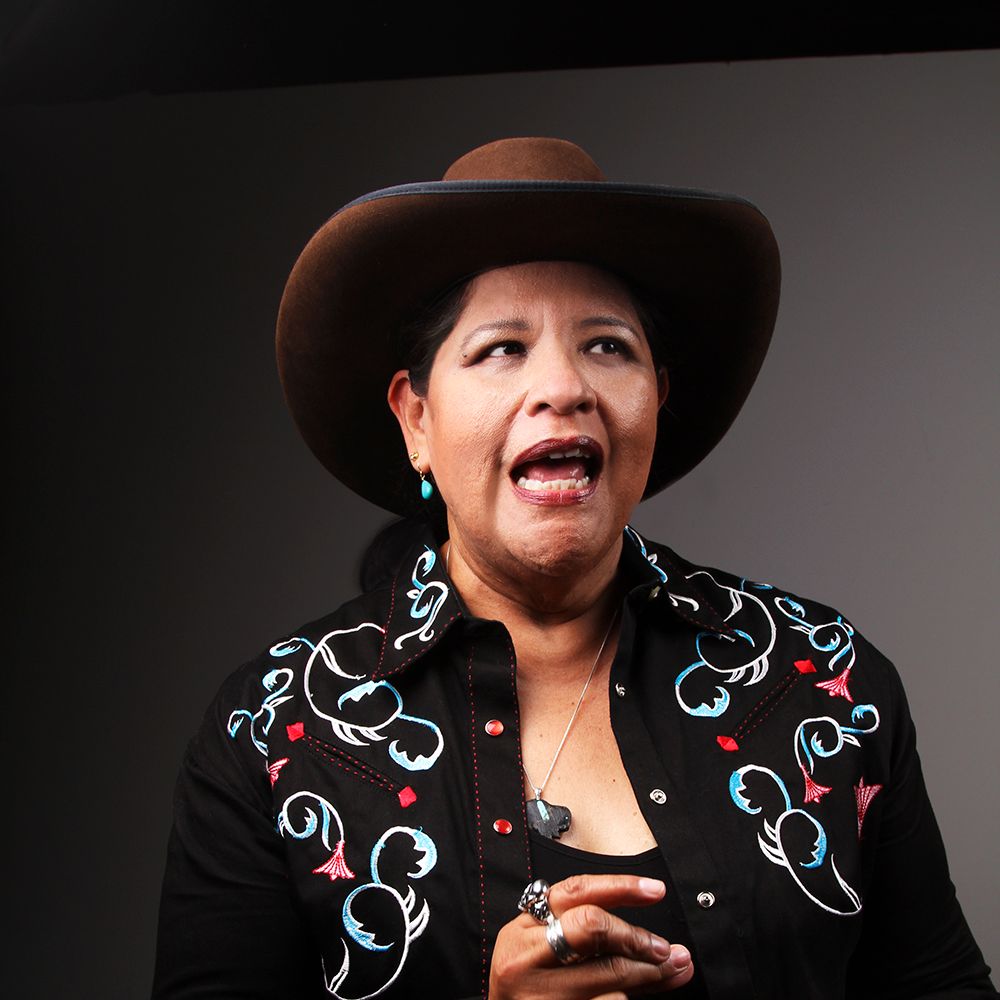 Arigon Starr
Native Woman of Many Talents
Arigon Starr is an enrolled member of the Kickapoo Tribe of Oklahoma. She grew up on the road as part of a military family. Her parents, Ken Wahpecome (Kickapoo) and mother Ruth (Creek-Cherokee-Seneca) supported her artistic expressions, encouraging her to learn as much as possible about music, composition, art, and drama. Starr relocated to Los Angeles, where she worked behind the scenes at entertainment companies like Viacom Productions and Showtime Networks. In 1996, she left her corporate job behind and became a full-time musician.
Starr's first CD, Meet the Diva, was named Best Independent Recording at the Second Annual Native American Music Awards. Her second release, Wind-Up, contained the hit "Junior Frybread," which was named Song/Single of the Year at the Fourth Annual Native American Music Awards. In 2002, Wacky Productions released her third CD, Backflip, which featured Grammy-nominated country act BR549. Starr's fourth CD, The Red Road – Original Cast Recording was named the Best Contemporary CD at the 15th Annual First Americans in the Arts Awards and features a Who's Who of musical guest stars from Los Angeles and Nashville. Additionally, Arigon was named "Songwriter of the Year" by the Native American Music Awards.
Starr's music has taken her around the world including stops in London and the famous West Yorkshire Playhouse in Leeds, in addition to appearances at the New Orleans Jazz & Heritage Festival and at venues like Sky City and Isleta Casinos in New Mexico, the Gilcrease Museum in Tulsa and the National Museum of the American Indian in Washington, DC and New York City.
Starr has also gained fame for her acting and has been awarded two First Americans in the Arts Awards, the Maverick Award from the Los Angeles Women's Theater Project, and a Wordcraft Circle of Native Writers Award. Arigon is the playwright, composer and performer in The Red Road, a wild, wacky musical comedy from Native Voices at the Autry. The play garnered rave reviews from the Los Angeles Times and Daily Variety and has toured across the U.S. and Australia. Additionally, Starr has appeared on television in Showtime's comedy, Barbershop: The Series and ABC's General Hospital.
Native Voices at the Autry and the Native Radio Theater project teamed with Starr for Super Indian, a radio comedy series she created which was taped before a live audience and broadcast in 2007. In July 2009, Starr taped a live radio version of her one-woman show The Red Road, directed by award-winning director/producer Dirk Maggs.
Arigon utilized her phenomenal drawing skills (pencils/inks/color/letters) to bring Super Indian to life. Super Indian began as a weekly webcomic and has been published as two graphic novels, gaining a diverse audience among comic fans, hipsters and academics. Her artwork has been featured at the Heard Museum in Phoenix, Museum of the American Indian in Santa Fe and the Philbrook Museum in Tulsa. She has been featured at many comic conventions across the US, including San Diego Comic Con. Starr's comic work also resulted in the award-winning comic anthology "Tales of the Mighty Code Talkers, Volume One." "Super Indian Volume Three" will be published in 2020 and her work will be on display at a future exhibit at the National Museum of the American Indian in New York City.
A Tulsa Artist Fellow Alumna, Starr continues to write, act and perform. Based in Los Angeles, she is a member of the Screen Actors Guild and Actors Equity.
# # #
Contact: Janet Miner/Wacky Productions Unlimited
Phone: 323.272.3919 |  E-mail: wacky@superindiancomics.com